Make your blog
real

in minutes

Start and manage your business blog like a pro in a fraction of the time.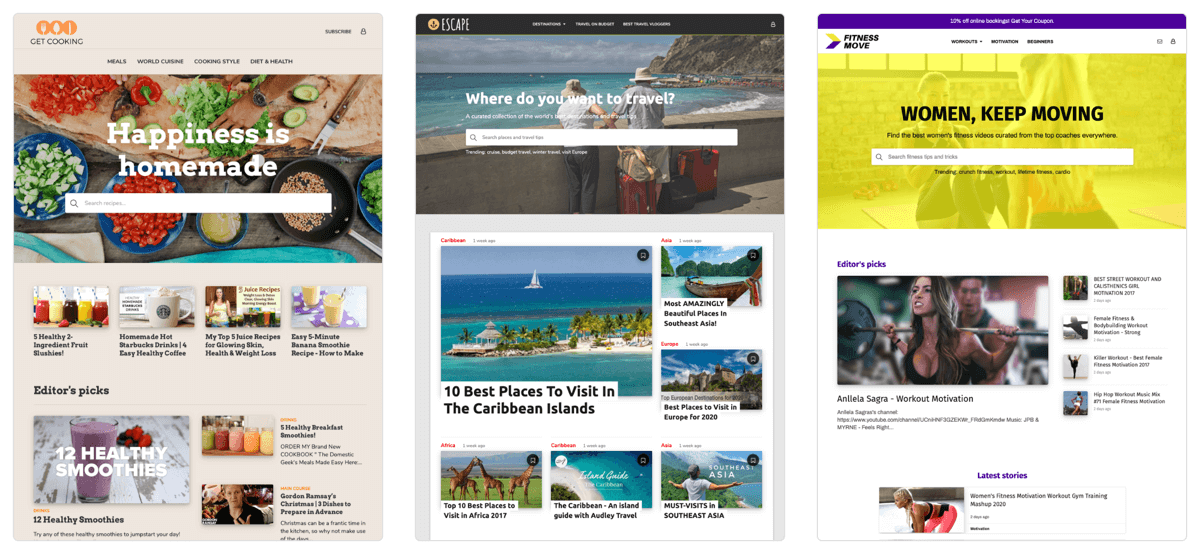 Design
Fully responsive and customizable themes
Easily customize our user-friendly and mobile-ready themes to match your brand.
Brand and customize your blog
Translate to any language
Themes
Get inspired with these blog examples
Stunning themes that are built to convert.
Theme Editor
Your blog looks beautiful
Use our theme editor to customize every aspect of your blog. Control colours, sidebar, hero search, menus and much more.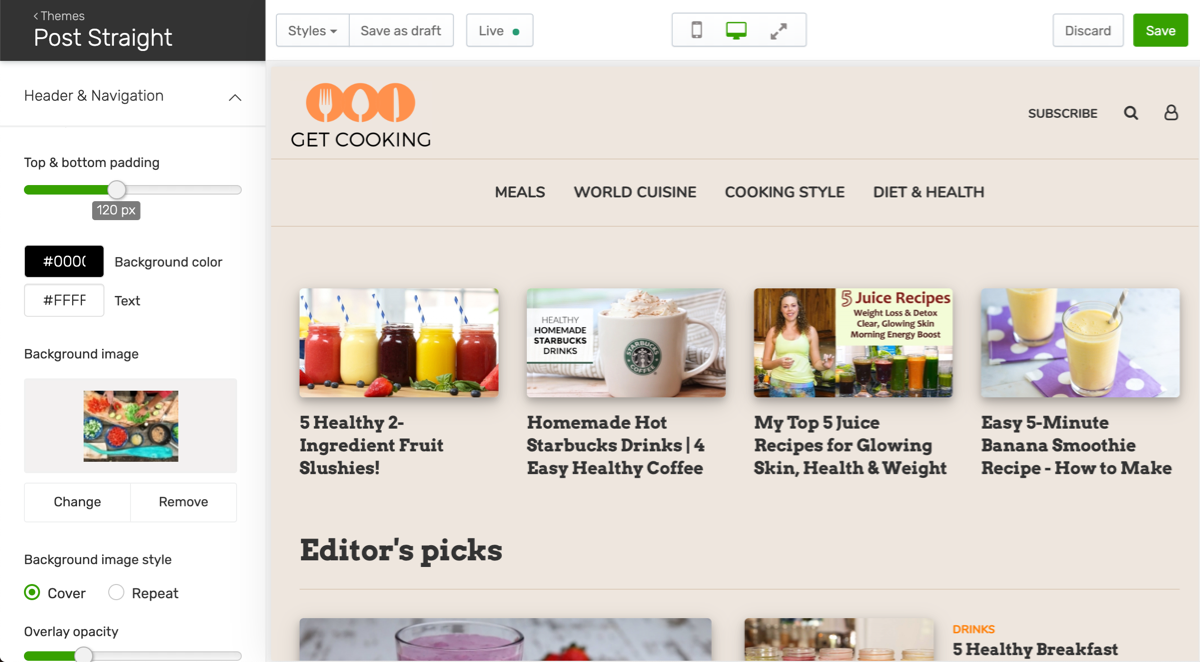 Text Editor
Create stunning web content
Use our block-style WYSIWYG editor to create your blog posts. It works with grids, embeds and your media library.
Text Editor
Give your articles more engaging content
Embed social media posts and videos from multiple channels.
Content Management
Manage thousands of posts with few clicks
As you curate more videos and create more articles, the bulk actions will make your blog's management a super simple task.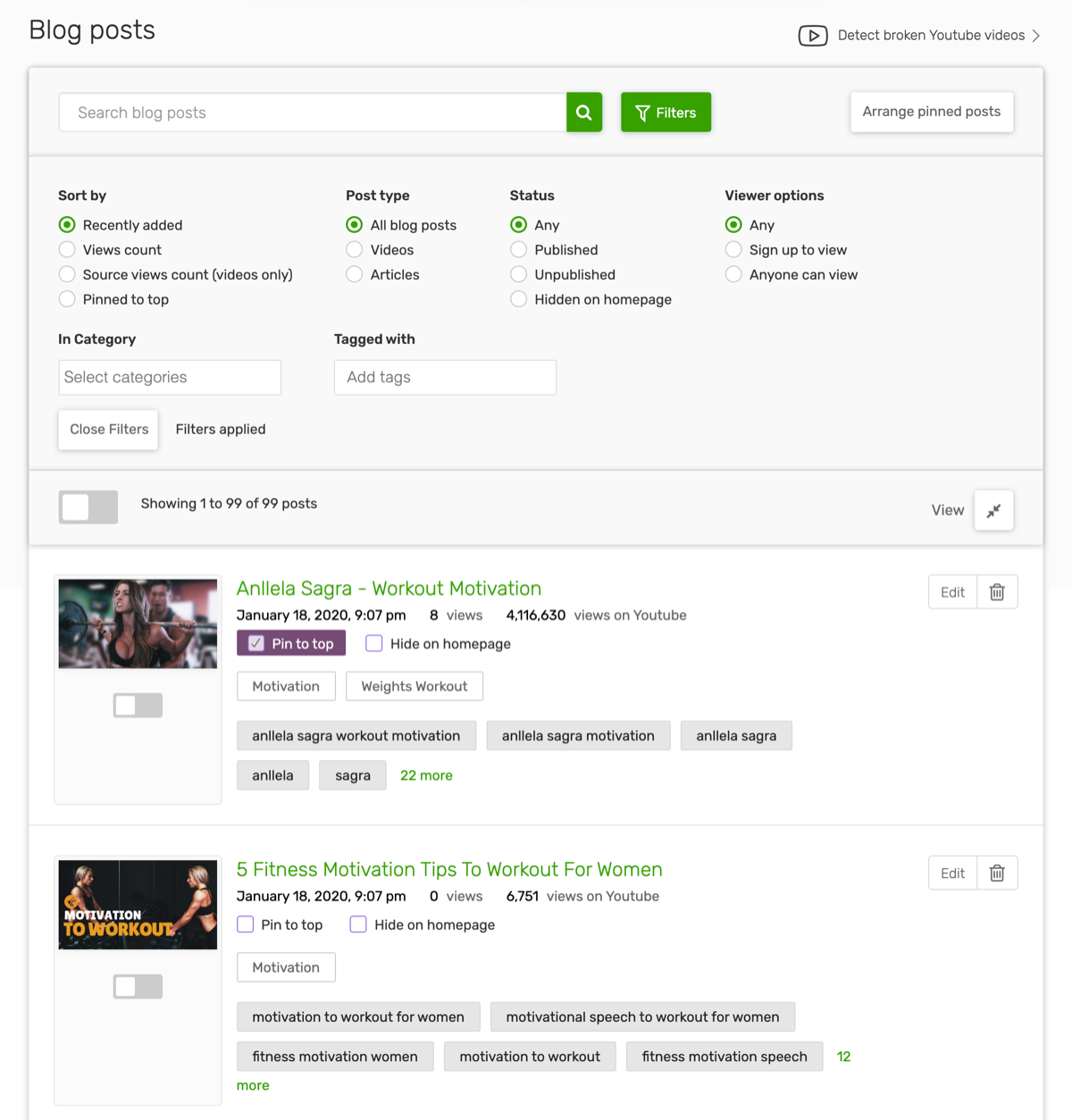 Video Curation
Never run out of engaging content
Whenever you can't create new content, curate videos and podcasts from YouTube, SoundCloud, Spotify and other providers. Use your curated content to publish engaging blog posts.
Learn more
Site Analtyics
Know your important numbers
Know your site's analytics, track your visitors' numbers and the most winning pieces of content.
Search Engine Optimization
Get more traffic from search engines
Optimize your homepage, posts and every single piece of content on your blog to compete and rank higher on search engines.
Monetization
Get more business results from your content
Fixed Advertisement Spaces

Monetize your blog by showing ads or promoting your services.

Custom Advertisements

Create custom ads to be shown on selected blog posts or category pages.

Call To Action

Promote your social media accounts and grow your email list.
Learn more
Team Members
Collaborate with your team members
Invite your team members and give them limited or full access.
You can assign roles like:
Guest Blogger

Content Curator

Content Moderator

Search Engine Optimization

Designer
Image Editor
Beautify your images quickly
Do quick edits to your images conveniently from inside your admin area. Resize, crop, transform, filter and much more.
More Features
Do more with an end-to-end solution
Custom Domain
Easily connect your own domain to your blog.
Google Analytics
Google Analytics works with your blog so that you can track visits and referrals.
SSL Certificate
Boost your Google search ranking and Increase trust by loading your blog over a secure connection.
Third-party Scripts
Integrate third-party code such as Facebook Pixel, Mailchimp, and similar services.
Translate your blog
Translate your blog to any language.
Export your data
Download a list of all your registered users and newsletter subscribers in a CSV Excel format.
Password protection
Limit access to your blog by requiring a password for access.
White Labelling
Completely remove any mention of PostQuicker on your blog.
Sign up to view
Lock selected blog posts and ask unregistered visitors to sign up to view these posts.
Platform
There's more PostQuicker for you
Media Curation
Curate and share more content in less time and effort.
Learn More
Audience Growth
Skyrocket your email list and promote your social media channels.
Learn More
Start your blog with PostQuicker today
Free 14-day trial No credit card required Easy setup